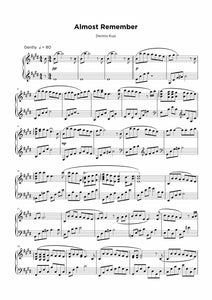 Learn to play "Almost Remember" from Study Music Project! This is one of my first compositions on my project. 
Background: The piece was written at a time when I was still an undergraduate at UCLA, trying to figure out my life. I always had a conflict of whether or not I should pursue medicine or music. My two interests has always been at war with each other. It was my 3rd year of undergrad, I was feeling somewhat defeated since the academic competition was extremely tough. Needing an escape, I turned to music, and I became so passionate about it, I almost dropped out of UCLA to pursue it. (Thankful my parents stopped me actually..that would have killed my intellectual passions.) During that time I committed to writing one NEW song every day. I kept this up for 2 weeks. During those two weeks, I wrote 14 songs, one song every day, whether I wanted to or not. Honestly, 13 of the songs were terrible, but the one GOOD song that came out of this whole ordeal, was "Almost Remember." And this song eventually became the foundation of "Study Music Project."
Tag me on Instagram: once you have successfully learned this song, post on Instagram and tag me @denniskuomd I'll give you feedback and help you share your video!